House hunting is tons of fun, but it's also a lot of work.
Here, we've got a rundown of some of our favorite apps for house hunters and soon-to-be-home owners.
(If you haven't yet, check out our Start-to-Finish Guide to House Hunting for tips and advice on finding the perfect home.)
myFico
myFICO – A better credit score can mean better mortgage offers and lower mortgage interest rates. But not all credit scores are equal. The free credit scores provided by banks, credit card companies, or credit monitoring services may not use the same FICO credit scoring models that mortgage lenders actually use to assess potential borrowers. Avoid surprises before you apply for a mortgage by investing in some serious credit monitoring.
There are plenty of credit monitoring apps out there, but the myFICO app is the gold standard. You can view and monitor your credit reports from all three credit bureaus; track changes; and view your FICO scores, plural, for different scoring models, including ones used by mortgage lenders.
The app itself is free, though some of the features require a subscription to myFICO.com ($19.95 to $29.95 per month, depending on how comprehensive you'd like your reports to be). Still, we think the cost is worth it, especially in the months leading up to a home purchase.
Free (but myFICO subscription required to utilize all features), available in the iOS App Store or Google Play for Android
Zillow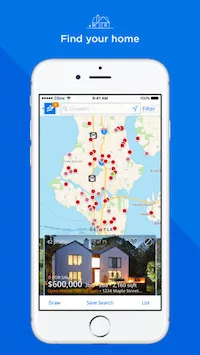 Zillow – The Zillow app lets you browse homes for sale by address, zip code, or proximity to your current location. (Ah, the wonders of GPS).
You can filter homes based on the usual square-footage and number-of-bedrooms criteria. You can also search for homes within the boundaries of a specific school's zoning district, or draw custom search boundaries on a map. Zillow notably also includes information on foreclosures.
Zillow's Zestimate feature estimates a home's value, which can be fun and interesting, and may give you a rough idea of home values in a given neighborhood. But take the numbers with a grain of salt: you'll need an in-person appraisal from a qualified professional for a true assessment of a home's value.
Free, available in the iOS App Store or Google Play for Android
Trulia Real Estate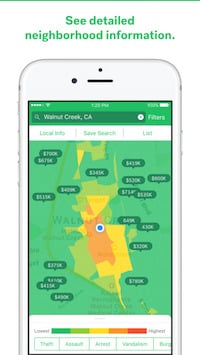 Trulia Real Estate – Another heavy-hitter for mobile home searches.
The Trulia Real Estate app lets you search and filter homes for sale by geographic location.
The Trulia app is great for visual thinkers. It has tons of photos and is easy to navigate.
Where this app really shines is in providing extra, useful neighborhood information on top of your mapped search results.
You can quickly and easily see information on a home's local schools, crime rates, even traffic patterns. Plus, you can check out the prices of recently sold homes in the neighborhood.
Free, available in the iOS App Store or Google Play for Android
Realtor.com Real Estate App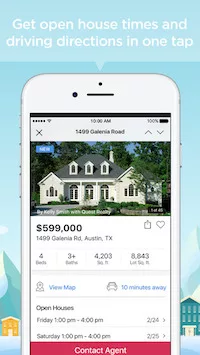 Realtor.com Real Estate App – Not quite as slick and glossy as Trulia or Zillow. But what this app lacks in snazziness it makes up in quick interface response and rapidly updated results.
You can sort results by open house date.
For homebuyers looking to score a deal, you can also flag listings that have recently reduced their prices.
One-click driving directions will keep you on track to make that open house without getting lost in an unfamiliar neighborhood.
And of course, the Realtor.com app makes it super simple to get in touch with a Realtor when you're interested in taking a closer look at a home in person.
Free, available in the iOS App Store or Google Play for Android
Dwellr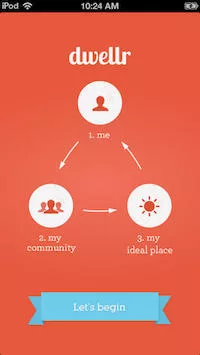 Dwellr – Ready to make a big move? The Dwellr app uses U.S. Census data to help folks find cities and towns that match their desired lifestyle.
Tell the app a bit about yourself and features you'd like in a place to call home.
Want to bike to work? Looking for love? Do you prefer small towns to big city living?
Once you've answered a few questions about your lifestyle preferences, the app will tell you what places are most like your ideal home.
Of course, for those of us who aren't ready to let an app choose our next hometown, you can also use Dwellr to find out interesting demographic data on any town in the U.S.
Free, available in the iOS App Store or Google Play for Android
Homesnap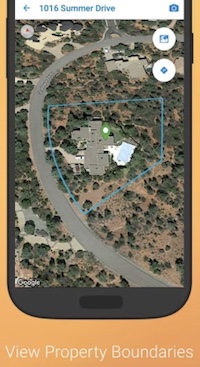 Homesnap – With Homesnap, you can take a photo of any house anywhere in the United States, and get information about that home instantly, including tax assessment and lot boundaries.
You can also use Homesnap to browse for homes.
Find out about recent sales and estimated home values for any home in the neighborhood.
Lots of this information is available to homebuyers elsewhere, but snapping a photo of a prospective home is fun.
And when you're out and about, taking a photo may be easier than writing down an address or trying to remember to look up information on a specific house later.
Free, available in the iOS App Store or Google Play for Android
Homefacts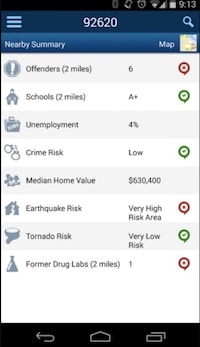 Homefacts – Want to know the full scoop on a particular neighborhood? The Homefacts app from RealtyTrac can help you research the good, the bad, and the ugly features of any given neighborhood.
School information, crime statistics, environmental hazards, and details about local infrastructure are all at your fingertips.
Want to know where the nearest FCC tower is? Curious about the air quality in your neighborhood? Homefacts can tell you.
This app is especially useful if you're concerned that your future home might have a seedy past or shady neighbors.
With just a few clicks, you can find out if there are former drug labs, superfund sites, or registered sex offenders in your area.
Free, available through Google Play for Android or on the web
Bonus App Recommendation: Something to Keep Your Search Organized
After you've been looking at homes for awhile, it can be hard to keep track of what you saw where. Did you notice the crack basement wall at the house on Lefferts Street, or was it the house on Collingwood Drive? Did the real estate agent ask you to call her, or to email? The open house is on Sunday, right?
You probably already have tricks and tools you use to keep yourself organized in your normal day-to-day life.
If not, buying a home is a great time to experiment with tools to help you keep track of photos, notes, contacts, and deadlines, because let's face it, you'll probably be dealing with a lot of them.
As far as general productivity tools go, we're fans of the native Notes app on our iPhones. For the technically-inclined, more robust note-taking and organizing apps like Evernote, Onenote, and Zoho Notebook might be worth a look.
Of course, a good-old fashioned pen-and-paper notebook can be quite handy.
Best of the Best
Don't have the time or bandwidth to download more than half a dozen apps?
It's tough to pick a single winner from these apps, but if we had to recommend just one, we'd suggest choosing one of the apps designed to help you browse and search for homes for sale in your area.
Zillow, Trulia, and Realtor.com's apps are all pretty similar, and you really can't go wrong with any of them. If you're a colors-and-pictures over words-and-numbers person, the Trulia app comes out slightly ahead of the pack. If you live in a hot real estate market and up-to-the-minute results are more important than a slick user interface, we'd recommend going with the Real Estate App from Realtor.com.
Of course, however you decide to find your next home, we're here to help you find the very best mortgage to finance it. Check out Morty's Mortgage Marketplace and get started here.